Our Mission
OUR VISION: A healthy planet that is home to wildlife, wild places and people.
OUR MISSION: Partner with the community to inspire sustainable solutions for protecting our rich biodiversity, our future and our planet.
The Zoo and its 24 employees aim to promote life-long care and respect for all animals and to create an awareness of conservation and the reliance of humanity on coexisting in a healthy and functionally connected ecosystem. We aspire to leave guests with a passion to protect wildlife and their habitats as we continually make improvements to the zoo and guest experience to deliver this messaging.
OUR STORY
Zoodoo is a guest funded Tasmanian Wildlife Park that has been operating for 24 years providing local Tasmanians & visitors to Tasmania with a unique opportunity to appreciate and interact with animals. In its 24t year of operation a new vision for the future is now being carried forward by owner/director Donna Cuttriss and the Zoodoo team, leading the way with an exciting new direction and vision for the future that will be centered on partnerships, collaboration, conservation and community engagement encouraging a move towards a sustainable future for all - much more than a zoo! With around 61,000 guests annually, we have a wide reach within and beyond our community.

We aspire to become the pride of our community and inspire action for change.
OUR COMMITMENT
Our talented and driven employees and volunteers are dedicated to providing high levels of positive animal welfare, throughout the life of every animal in our care. We are committed to assisting with the conservation of biodiversity by:
Advocating for the management, conservation and respect of animals and the environment.
Participating in regionally and globally coordinated collaborative animal management and research programs.
Reducing our environmental impact and promoting environmental sustainability.
Caring for animals
What does animal welfare really mean?
We at Zoodoo care deeply for all our creatures, from our 3-metre-tall camels to our mischievous little meerkats. So, when we're talking about welfare, we refer to the different feelings and sensations each animal under our care experiences, ranging from positive to negative, given the conditions in which it lives in.
Since we're accredited by the Zoo and Aquarium Association (ZAA), this means you can rest assured that the animals under our care are happy and healthy. We support a high level of animal welfare by using the Five Domains Model.
Five Domains
What are the Five Domains?

A science-based tool for assessing and supporting animal welfare. First we assess the first four domains (Nutrition, Environment, Health and Behaviour), which builds us a picture of the fifth domain (Mental Domain) and the overall welfare of the animal.
Nutrition: Ensuring our animals are all well hydrated and have access to a balanced and engaging diet, no hungry animals here.
Environment: Understanding the environmental needs of each animal that influence their natural sensory responses, to provide a habitat where they can feel at home.
Health: Supporting our animals' physical health, through regular check-ups and veterinary care, to ensure that our animals are in tip top shape and can engage in a range of positive experiences.
Behaviour: Providing opportunities for our animals to engage in natural behaviours, self-generated actions and purposeful activities, like play, courtship and foraging.
Mental: Understanding, based on the assessment of the other four domains, the various emotions and sensations that make up the mental state of each animal.
The Zoo and Aquarium Association (ZAA) Accreditation

At ZAA there's no monkeying around when it comes to getting accredited. It involves a thorough process where zoos, aquariums, sanctuaries, and wildlife parks must provide compelling evidence on their operations, policies and the experiences of their animals. This assessment goes beyond the minimum legal government requirements placed on zoos and aquariums, using the Five Domains model to reach a higher standard and continuously support positive animal welfare. You can learn more at Zoo Aquarium Association of Australasia

During the Eastern Australian bushfires in early 2020 , Zoodoo raised $7000 to contribute to the ZAA response to the drought and bushfire crisis. ZAA Conservation Fund - Bushfires
MORE THAN A ZOO
A wildlife refuge
Zoodoo is set on the hinterlands of the Coal River Tier, a beautiful bushland backdrop directly adjoining the zoos rear boundary. Situated between the towns of Tea Tree and Richmond the 2000 acres of dry forest clads the western escarpment of the Coal River Tier. Zoodoo manages around 15% of this significant patch of threatened vegetation (outlined by green boundary in image).
Towering 350m above the zoo, the Tiers forested slopes are isolated from other bushland remnants in the region by adjoining human modified environs. The bushland has become an 'island adrift in a sea of agriculture'. After a preliminary assessment of the site by the Tasmanian Land Conservancies Land for Wildlife program, the refuge has been found to hold some significant biodiversity values. Early results of monitoring in the refuge with automatic wildlife detection cameras have identified multiple individual endangered Tasmanian Devils and vulnerable Spotted tailed quolls breeding and living on the Tier.
Two of the four vegetation communities documented are threatened. Southern Blue Gum Eucalyptus globulus dry forest, listed as vulnerable, covers the steeply sloping hills Tasmanian Threatened Native Vegetation Communities. Native grassland dominated by Kangaroo grass Themeda triandra occupies lower slopes and this is listed as critically endangered under the EPBCA 1999.
Eucalyptus globulus (Blue gum) dry forest on the tier is predominantly found on dolerite ridges, slopes and flats in the east and south-east of the Tasmania with a Tasmania-wide extent of 49 000 acres. This distinctive habitat of dry forest woodland is relatively poorly reserved, 25% of currently remaining stands are within the secure National Reserve System. Throughout its range, dry Blue gum communities have been subject to extensive land clearance for agriculture and plantation and timber harvesting. The dry forest of the Coal River Tier represents around 4% of the entire remaining vegetation community and its value is further enhanced because the average remaining patch size is only 37 acres with 71% being less than 25 acres, most patches are 2 - 12 acres in size.
Zoodoo envisions protecting and managing the zoos 373 acres of the Coal River Tier for its natural values. Developing innovative approaches engaging the community, zoo visitors and students in this exciting project will be instrumental in defining future directions for Zoodoo. Early stages of planning are underway to chart the steps towards achieving this vision for the land and the greater Coal River Tier. The Zoo has joined the Land for Wildlife program of the Tasmanian Land Conservancy and the Humane Society International - Wildlife Land Trust as a first step toward this.
2021 winter and spring surveys conducted by the Tasmanian Field Naturalists Club have culminated in 746 observations recording a total of 325 species (Animals, Plants & Fungi). Records can be viewed at iNaturalist under the Project Coal River Tier.
Some neighboring properties along the Tier have also recognized the natural values of this vegetation with a conservation covenant on one 320 acre title and a Land for Wildlife block on another 55 acres. The Zoo hopes to seek further collaboration with the aim of promoting the protection and management of this valuable native forest remnant.
Undescribed Snail Species in Zoodoo Wildlife Refuge
"Last October I conducted a preliminary snail survey of Zoodoo's bushland and recorded nine native snail species. This was a decent number but I was a little surprised to only find one species of the family Charopidae, a family of mostly tiny snails that makes up most of Tasmania's land snail diversity. During the July Field Naturalists outing I spent most time walking around the top of the property and much less time actually surveying, but the 45 minutes we did spend looking for snails in the main gully around the edge of the property was very successful, with two more charopids recorded. These included the first Zoodoo record of Bonhamaropa sp "Barossa Hill" (a fairly common SE Tas dry forest species) but also just as we were about to leave I found a flat whitish 1.5 mm wide snail that I could not immediately identify. I thought this snail might be a juvenile of the endangered Ammonite Snail (Ammoniropa vigens) but when I put it under the microscope at home I found its sculpture was different. These small charopids have a sculpture of regular riblets, but between the riblets is an intricate pattern of smaller spiral and radial lines that can only be seen with a good microscope. On this specimen the adult spiral micro-sculpture was very bold and obvious under the microscope while the radial micro-sculpture between the riblets was very hard to see. This is quite unusual, although some undescribed Bonhamaropa species have a somewhat similar sculpture. After comparing the Zoodoo specimen to hundreds of others I've collected it became clear that it didn't closely match anything and was another new species (and perhaps new genus, or it may be an unusual Bonhamaropa) to add to the many dozens of undescribed charopids here that are awaiting formal description. Eastern Tasmania especially has a great diversity of these small and often very localised charopids and the more large areas of good habitat land owners like Zoodoo can preserve the more of these, often unknown, species we can keep alive!" Kevin Bonham
Microscope photographs of the new species found at Zoodoo Photograph: Kevin Bonham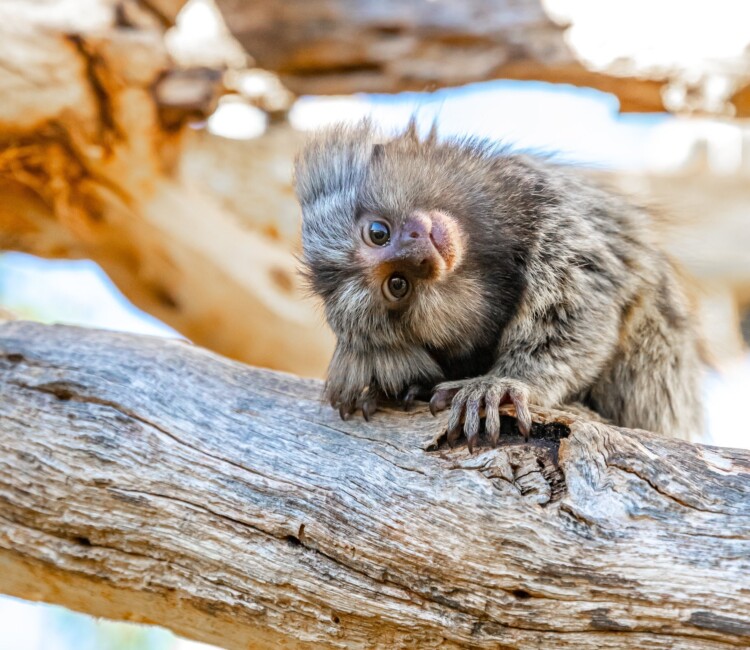 YOUR MISSION
Our world is facing constant challenges - there are some great ways you can contribute through Zoodoo to help make positive changes for the future.
PROUDLY SUPPORTING
Zoodoo provides ongoing fundraising support to assist the following conservation & social causes.